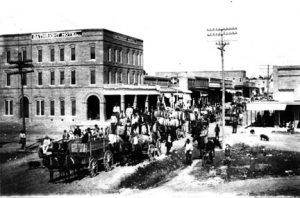 According to Native American folklore, Rocky Comfort, originally called Willow Springs, was so named because there was a spring, shaded by many willow trees, running through the rich deposits of lime rock. Animals would come to the spring and drink the cool water and rest under the willow trees. The native people therefore named it "Rocky Comfort" because of the rocky terrain and the shaded place of comfort enjoyed by the animals.
By 1850, Rocky Comfort was a thriving community on top of a hill, and by the 1860's it began to develop downhill across the ground below. The courthouse, a hotel, blacksmith shop, stores, and other establishments spread out in many directions. Rocky Comfort was named the county seat in 1868, and remained the center of county government until 1880 when it was moved to Richmond.
When the Arkansas and Choctaw Railroad built its line from Ashdown to Arkinda in 1895, it cut through the virgin forest one mile North of Rocky Comfort on the "right of way" easements sold to the company by local citizens. By 1900, businessmen as well as residents of Rocky Comfort recognized the area's potential and added convenience of locating closer to the rail line.
A new community began to grow, and was named "New Rocky Comfort". When the U.S. Postal Service was officially established in 1900, it did not want to use a lengthy name in transacting the mail for this new community. Instead, it chose to designate the town as "Foreman", in honor of Ben Foreman, a prominent civic leader from Texarkana.
Due to the "dual identity" of the town, all mortgages and deeds carried a description of the town as being situated in New Rocky Comfort (Foreman). It was not until 1959, the State Legislator and later Speaker of the Arkansas House of Representatives, Marion Crank, proposed " Act 83 " which legally changed the name of the town from New Rocky Comfort to Foreman.